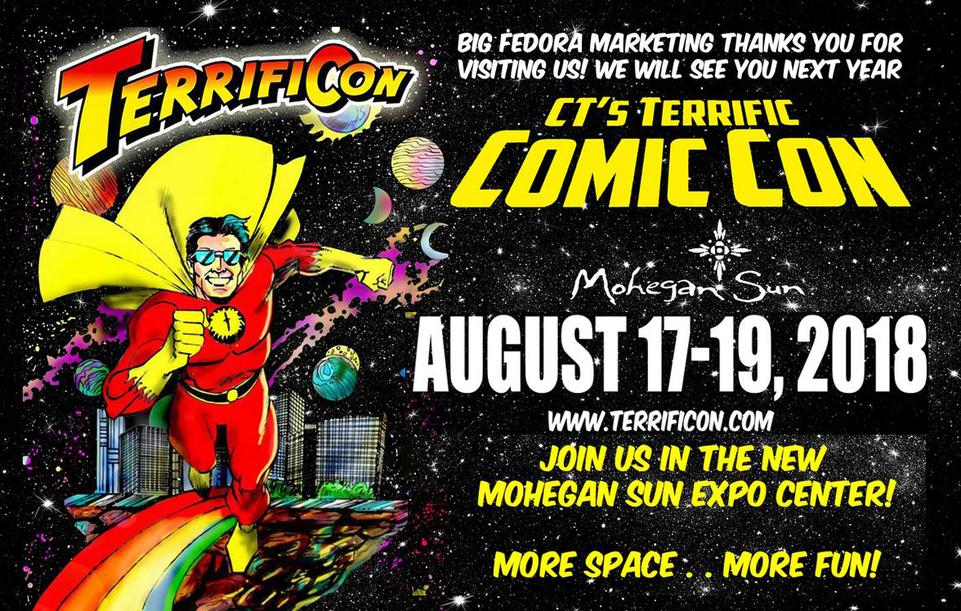 Is the Con a family-friendly event?
Absolutely. Since day one, we have made it our mission to celebrate all type of games for the kid of all ages! In fact, kids 8 and under are admitted free (up to two free kids' tickets per paying adult admission).

Are there things to do?
Make it a SUPER Weekend Getaway!
Visitors to Mohegan Sun for the con and you will also discover Mystic Country, a region rich in compelling museums, attractions, vineyards and more. A trip to Mohegan Sun serves as the springboard for an unforgettable getaway, whether a romantic trip for two, an action-packed trip the whole family can enjoy or a solo retreat.

The scope of things to see and do near Mohegan Sun is extensive - from maritime museums and historic sites, to parks, galleries and breweries. Visitors can also take advantage of seasonal recreational activities such as boating, fishing, golfing, biking, camping and summer sunning on the Connecticut shore, as well as skiing and ice skating in winter. Year-round possibilities include performing arts shows, fine factory outlets and a variety of great local shops.

For more information about things to do in southeastern Connecticut, please visit Mystic.org.

How do I get my kids into the Convention Center?
Our hosts at Mohegan Sun are well-experienced in providing a variety of family entertainments (including an arcade and kids' zone). The gambling area is only a small part of the Mohegan Sun resort. Our event will be held within the hotel and the Convention Center, which is accessible via the hotel entrance as well as the shopping areas, should you wish to avoid the gambling area altogether. This is important, as NO ONE UNDER 21 WILL BE ADMITTED TO THE GAMING AREA.


Can I dress as Master Chief and play Blackjack?
Costumes are permitted in the Convention Center, after parties, hotel, lobby and other areas -- BUT wearing a mask, make-up or any type of face coverings is NOT allowed in the gaming/gambling areas.
​​
THE ONLY AREA YOU CANNOT WEAR A MASK OR FACE COVERINGS IS IN THE GAMING AREAS. DECISIONS AS TO WHAT CONSTITUTES A MASK WILL BE MADE BY MOHEGAN SUN'S GAMING PERSONNEL, WHOSE DECISIONS ARE FINAL.

Speaking of cosplay, what are the rules?
Cosplayers can park with the free SKY VALETor at the RIVER VIEW Parking Garage - there will be signs as you approach Mohegan Sun Boulevard. These entrances are for those folks that have face make up or a mask on. This is the closest distance to the entrance to the convention center. they will have to enter through the either of these points of entry and have "prop" weapons checked by police when they come in for public safety. They can go to convention center, hotel lobby and public areas of shops AND mall concourse with their masks and face paint on - this will not be an issue.

But if you want to gamble - you cannot enter the gambling/casino floor with your face covered for security reasons - Use common sense, folks, there's money and chips in those areas - you cannot have masked or faces hidden in those areas!

Is there a costume contest?
Yes. We will have an costume contest on Saturday at 5:00pm Registration for the contest will be conducted on-site. See our EVENTS page for times and details, once they've been finalized.

Is there a fee for parking?
Mohegan Sun offers free parking and valet parking to all its visitors.

Is there WiFi?
Mohegan Sun offers free WiFi to all its visitors.

Are there charging stations for my mobile devices?
Mohegan Sun offers free charging stations. Locations will be indicated on the map inside the free copy of the Con program which each patron will receive.

Are there FREE shuttles between the Mohegan Sun and the other hotels?
Several of the area hotels offer free shuttle service to and from the Mohegan Sun. Please see our website's HOTELS page for more information.

EXHIBITOR INFORMATION


SPACES are on sale NOW!



How can I purchase an artist/vendor/exhibitor table or booth?
IMPORTANT: Exhibitor spaces WILL sell out well in advance of the show. Please don't delay, or you risk being shut out. Payment MUST accompany application/contract. Also note that assignment of exhibitor spaces will be at the discretion of management. Requests for specific locations will not be accepted.

How many passes will I receive with my exhibitor-space purchase?
Each table or booth will entitle your business to two 2-day EXHIBITOR or ARTIST passes. Each business (not each table/booth) will also have the option to purchase up to two more similar passes at a slightly discounted rate. IMPORTANT: Order your passes carefully. NO PASSES WILL BE AVAILABLE FOR PURCHASE ON SHOW DAY.

How do I get WiFi and/or electricity?
Mohegan Sun provides free WiFi. Login information will be posted. If you need an electrical hookup, you MUST contract directly with the convention center.


When will exhibitor load-in begin?
Exhibitor load-in and setup will begin on Friday night, March 23RD 2087, at 6:00 pm and must be completed by 9:00 am on Saturday (before doors open to the public). Directions and any further details will be provided by e-mail in advance of show day.



​​COSPLAY FAQs
Is cosplaying allowed?
Of course! We celebrate it, and encourages attendees to dress up as their favorite pop-culture-themed characters. We will have costume contest. Details will be posted to our website's EVENTS page, once finalized.

How do I enter the if I have an elaborate costume?
Cosplayers can park with the free SKY VALET or at the RIVER VIEW Parking Garage - there will be signs as you approach Mohegan Sun Boulevard. These entrances are for those folks that have face make up or a mask on. This is the closest distance to the entrance to the convention center. they will have to enter through the either of these points of entry and have "prop" weapons checked by police when they come in for public safety. They can go to convention center, hotel lobby and public areas of shops, mall concourse, Glo after party with their masks and face paint on - this will not be an issue.



​There is an escalator and elevator that you can use to get to the main ballroom floor.

IMPORTANT: COSPLAY IS PART OF THE CT GAMER CON but... NO ONE WEARING A MASK OR FACE PAINT WILL BE ADMITTED TO THE GAMING/GAMBLING AREA. DECISIONS AS TO WHAT CONSTITUTES A MASK WILL BE MADE BY MOHEGAN SUN'S GAMING PERSONNEL, WHOSE DECISIONS ARE FINAL.

​​COSPLAY PROP FAQs
Are weapons allowed?
Any and all LIVE weapons are NOT allowed. — Leave your pistols, knives, rocket launchers, etc., at home.

All weapons, props, or anything remotely weapon-like must be checked with Security when you enter the convention.

ALL costume weapons must be inspected at the Weapons Check area. Security will thoroughly inspect and mark weapons of any kind, to ensure that they are safe and inoperable.
All costume weapons must conform to state and federal law.
All weapons must be easily distinguishable from real weapons, and must be constructed from safe, lightweight material. Approved materials are: rubber, plastic, foam, cardboard, and papier-mâché.
NO LIVE STEEL at all will be permitted on the premises of the Mohegan Sun Convention Center. Live steel is defined as, but not limited to:

Swords

Axes

Knives

Bayonets

Brass Knuckles

Any other objects made of metal, which can take an edge, regardless of whether the object is actually sharp.


Nunchakus or other regulation martial-arts weapons are not permitted.


NO AMMUNITION of any kind is allowed. This includes, but is not limited to:

Nerf ammunition

Real ammunition, live or inactive

Air-gun/Cap/Pellet ammunition

NO FIREARMS AND/OR PROJECTILE WEAPONS of any type are permitted. The exceptions to this rule are as follows:

Easily identifiable, plastic, toy guns with no moving parts, and that have a clearly visible, non-removable orange tip.
The person carrying the pistol is a law-enforcement agent who is on duty.

If Security decides that a weapon is too dangerous, you will be asked to return the item to your room/car. You must comply with Security decisions.
No swinging of weapons, throwing of weapons, or play fighting (with or without weapons) will be tolerated.

Are there any restrictions on what I can wear?
We are a family-themed event, please use your best judgment in keeping your costume tasteful at all times. NO nudity nor see-through material exposing body parts beyond the boundaries of good taste will be allowed. If needed, you may be asked to leave by our staff or security.

Is there an anti-harassment policy?
We want you to have a super time, free from any worry. We will not tolerate harassment of ANY kind. If you witness, or are victim to any type of harassment during the con, contact either a staff member or volunteer shirts to report it. Con staff will work with security and local law enforcement, as needed.

We will not tolerate any harassment from attendees, including but not limited to:

stalking

intimidation

offensive verbal comments

physical assault and/or battery

harassing or non-consensual photography or recording

sustained disruption of panels, signings, and other events

inappropriate physical contact

unwelcome physical attention


in relation to, but not limited to:
race

color

national origin

gender

gender identity

gender presentation

sexual orientation

age

body size

disability

appearance

religion

citizenship